Vision
Providing new, unique and varying services to the clients while exploring further tour destinations/ enjoyment for the clients and thus becoming a reputable, leading and successful tour operator in Tanzania.
Mission
To provide customized and client centered services that take into account their varying differences in age, gender, and language / background and health status among others.
To promote responsibility and accountability, honesty and integrity, transparency and working onfeedbacks/ challenges imposed by customers.
To promote transparency and strong feedback systems and timely delivery of the solutions.
To promote the spirit among the Kili Peacock Team of learning and exploring ever changing new experiences for the clients.
To collaborate with the Parks management and other NGOs in promoting both the wildlife and environmental sustainability.
Denis is an entrepreneur, economist, founder and CEO of Kili Peacock Adventures.
His life histories and thus his endeavors are believed to tie to what has been happening around him since he was born.
Tourism in Tanzania has been more active in Kilimanjaro and Arusha. Arusha is gateway to the famous northern circuit national parks including Arusha, lake Manyara, Serengeti and so on while Kilimanjaro is blessed with the famous and tallest Mt. Kilimanjaro.
Denispassion for adventures, interests in economics coupled with the luckiness of being born few kms from that famous mountain, studying and spending time in Arusha got him in the tourism field.
The establishment of Kili peacock follows his accomplishment in being an experienced professional Mountain and Safari guide and a holder of bachelor of economics in project planning.
The global demand for ecotourism has further inspired him to pursue a master degree of environmental and Resource economics with the hope of promoting environmental sustainability.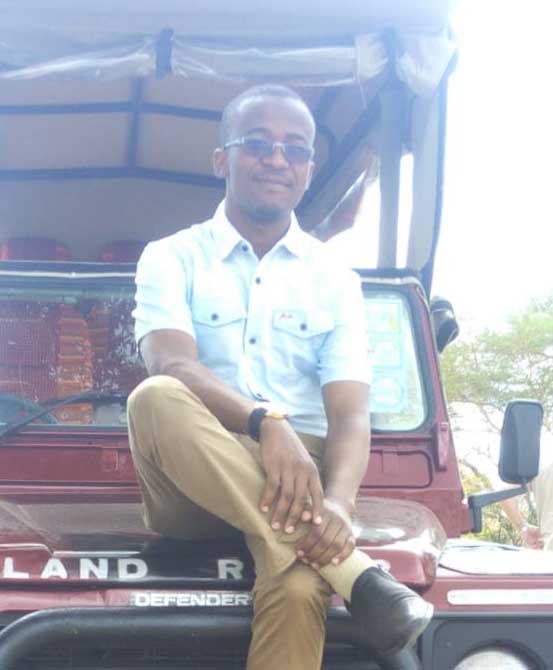 He is medical doctor with a long and fascinating story with a tourism industry.Despite the change in main focus, the little time he obtained, he would spend by travelling, meeting new people and facilitating the tours of his friends via attaching them with reputable tour companies including Kili Peacock Adventures.
It was the behavior he maintained after joining the medical university, and even thereafter as full-fledged medical personnel.His experience in treatment and in encountering individuals who couldn't full enjoy tourism/ travelling due to medical reasons coupled with his desires to get them treated and thus enjoy their endeavors was another reason for his continual attachment with the tourism industry.
He was quoted saying, "The clear and attainable company's vision and mission and the room the Company offers for the practice of medicine were the reasons behind my decision in choosing them over other tour companies.
Gift David Essau
Marketing officer
I was born in the beautiful landscape of Tanzania's Kilimanjaro Region. Growing up on the slope of the mountain meant I was surrounded by all its beauty. Ever since I was a child, I have been mesmerised by the wonder's nature holds. One of my favourite natural wonders is the migration of the Wildebeest. Each year around 1.5 million wildebeest will make the trek from Tanzania's Serengeti National Park to Kenya's Masai Mara in search of food and water.
My studies have been focused around nature and preserving it. I did my bachelor's degree on International Relations and I am currently finishing my masters on Social Protection in the hopes of finding a sustainable way of improving international areas for tourism. This could help provide education on the wildlife in the area and help protect it.
I would spend my free time volunteering. I have volunteered as a Wildlife Counsellor in Tanzania and would also call myself a wildlife activist. I am currently living in Germany to finish my studies.
Elizabeth Mosha
Accountant and trip organizer
Born in Pwani region and grew up in Dar esSalaam. She holds a Bachelor degree of Economics in Project Planning and Management.
Mid 2018 to early 2019 she, volunteered as an accountant to Tanganyika Wilderness Camps for the purpose of learning how Tourism activities contributes to the national income through hospitality services, but she has now joined Kili Peacock Adventure to bring it to the next level